AMP from AmpifyMe app can boost your Shopify store
The AMP is a must have for mobile e-commerce. It's a technology that will make your store consistently fast, beautiful and high-performing across devices and distribution platforms.
Bringing mobile sales to your shop
Maximize sales using AMP
By using AmpifyMe AMP, you are able to deliver awesome AMP experience to your users. With faster loading times, many retailers see higher conversions and higher engagement when using AMP. We've seen that users are more willing to return to an e-commerce site that performs well. Whether you're a smaller store or a larger marketplace, AmpifyMe AMP can help you make the sale.
Get it now
Powerful features
Our AMP app offers some very neat capabilities.
Custom branded
Make customers feel at home with a custom theme that matches your existing site. Be recognized.
Highly customizable
AmpifyMe AMP is highly customizable, and if we forgot something important, let us know and we'll add it right away.
Blazing fast
We are caching generated AMP pages all over the world, which makes your pages load near instantly, giving users a smooth, more engaging experience.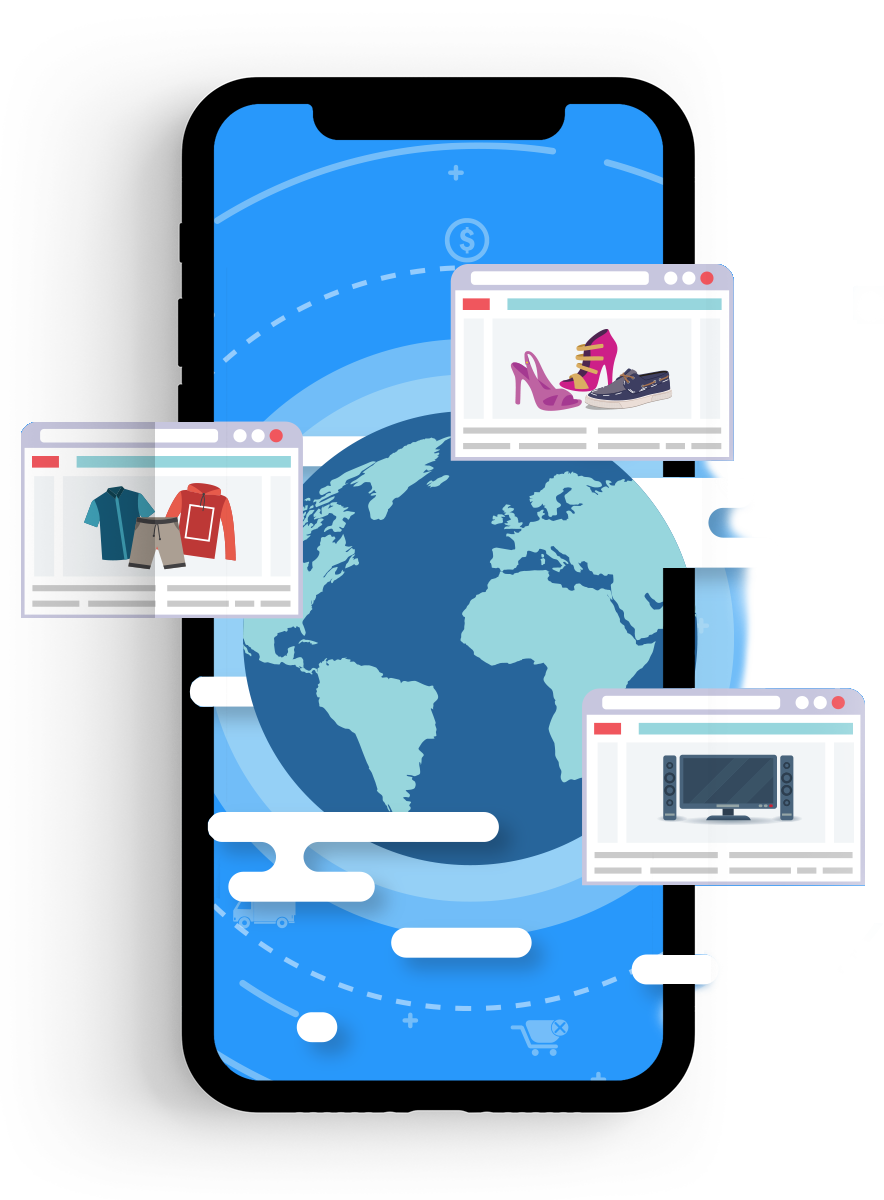 Easy to set up
AmpifyMe AMP will work the moment you install the app.
SEO heaven
Google is showing AMP optimized pages on mobile at the top as a carousel. So now shoppers can see an image of your product as well.
Store booster
Get an increase in mobile visits and more conversions from mobile devices. Boost the site's organic performance without having to spend money on ads.
What our customers say
Read what others say about AmpifyMe AMP.
Great application, highly recommend. I have seen traffic through my site increase by 30% in the last week alone!
RS
Rhed Shoppe
Shopify Store
Simple and easy to use you don't need more effort in doing things specially if you are busy and beginner, great app indeed.
TD
TheDrven
Shopify Store
I used this app to help me optimize and organize my newly opened store, I love it! I am very excited about the opportunity to grow my online business.
ST
Steele-Twins
Shopify Store
This is exactly what I've been looking for. If you are still using a slow loading page, well power to you. I'm looking forward to the results.
Such piece of a gold, very helpful and helpful and easy to use. Everything about is good even at free version.
How our app looks like
A quick preview of the most important functionalities.
- What is AMP? -
The AMP Project is an open-source initiative aiming to make the web better for all. The project enables the creation of websites that are consistently fast, beautiful and high-performing across devices and distribution platforms.
Learn more
Get started with AMP
We'll make sure your store is AMPified from now on.
Unlimited page views
Unlimited amped products
Instantly loading pages
Links to your store
Analytics integrations
Edit the look and feel (menus, colors, fonts, etc)
All from Free
AMP collection pages
Advanced analytics integration
Support for 3rd party apps
9 review integrations
Recommended products
AMP Validations
All from Hobbyist
Custom domain, have pages on any url you want with CDN
Ampfied blogs
Ampfied Shopify pages
99.9% SLA
PWA integration for ultrafast setup
Home page support
Need more?
We have a plan prepared for big customers that need more
Enterprise
starting from
$
199.99
per month
All from Company
Custom theme that matches your store style
Ampify any pages
Custom integrations
Priority support
Helpful answers
Find out how AMP will affect your store performance.
How is AMP helping my business?
AMP is the best way to get more mobile sales. Google loves AMP. Actually, Google even invented AMP. AMP pages are fast and lightweight so Google positions them better compared to normal pages in Google results.
How different will my store look after AMP?
Your store will continue to work as is. AmpifyMe AMP generates new AMP pages for your products and blog posts. Then takes these new AMP pages and puts them in servers all over the world so your customers can see them almost instantly no matter in which part of the world they are or how slow their connection is.
Can the AMP pages look like my normal ones?
Yes, we have an option where we can make your new pages look like your normal ones. This way you get to keep your branding and you will make your designers happy. Send us a message and we will share more details with you.
How will AMP help with the SEO?
Ampify Me will apply all the latest tricks to generated AMP pages, like for example adding Google structured data to pages in order to make sure your pages will get the best possible position in Google search. We provide a lot of details in Google listings, like price and in stock availability for example. We are constantly up to date with the latest best practices, we are constantly updating AMP pages to get better results.